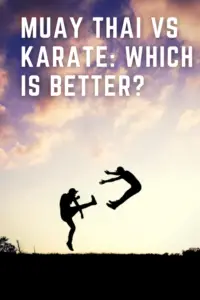 Muay Thai and karate are perhaps two of the most popular striking martial arts both incorporating a comprehensive system of striking techniques.  Both have rich, deep histories and have gained worldwide popularity. 
I've often wondered what the key differences are between these two styles and which one is better.
One of the differences between these two fighting styles is where they originated from.
History of Karate
Karate originated in the Ryukyu Islands on the south-west tail of Japan.   It had its own fighting systems called Te and different regions had their own fighting styles:  Shuri-Te, Naha-Te, and Tomari-Te; named after the cities from which they developed.
The region used to be an independent kingdom prior to being formally annexed by Japan in 1879.  Prior to its annexation, the islands enjoyed close relations with China: a number of Chinese families were sent to the island to help with its development.  They shared their knowledge of science, technology and also, the martial arts – in particular, White Crane Kung Fu.
Over time, the native Te and the Chinese martial arts blended together.  It was Gichin Funakoshi, the "Father of Modern Karate", who spread this hybrid fighting style from Okinawa, the largest of the Ryukyu Islands, to mainland Japan.  From there it later spread to the rest of the World.
Related Article: Is Muay Thai better than kickboxing?
History of Muay Thai
Muay Thai developed in around the 16th century in the Siam kingdom (modern day Thailand) and was practised by the soldiers of King Naresuan.
It grew in popularity as an effective fighting system that was utilized during the Burmese-Siamese War (1765-1767).  It was not only used in military combat but also developed into a sport, becoming a key component of local festivals and celebrations.
During the 20th century, the techniques of British Boxing were incorporated into the fighting style and formal rules were put in place that  governed each fight.  It exploded in popularity during the 1980s and is now practised worldwide.
Related Article: Is Muay Thai more dangerous than boxing?
Features of Karate
Karate is a striking art that incorporates a variety of punches, kicks, and elbow strikes.  It is highly regimented and there's a tremendous emphasis on correct form.  This is driven by the desire to retain the tradition of the martial art and to maintain consistency in its practise. 
Part of the culture in Japan is obsessed with the pursuit of the perfect way in which to do something.  Think of the Japanese tea ceremony – it's highly ritualised sequence of movements and any deviance from the set routine isn't tolerated.  Karate is very much like this.
There are various schools in Karate.  Shotokan is one of the traditional styles and is characterised by long stances designed to build up leg strength.  Surprisingly, there's no physical contact in this style and all techniques are 'pulled short' by a couple of inches before making contact with an opponent.
In contrast, Kyokushin karate involves full contact to the body; punches to the head are not allowed but, surprisingly, kicks are.  There's a strong emphasis on conditioning and strengthening the body to withstand being hit.
As well as the striking and blocking techniques, Karate also incorporate a number of set patterns of movements known as 'Kata'.  These are pre-arranged sequences of attacking and defensive techniques which have to be executed in a very prescribed way.
All styles of karate feature a belt system and as your skill level increases, you progress through various colour belts, until ultimately you obtain the coveted black belt.  In order to move up to the next coloured belt, students have to participate in a grading where you have to demonstrate specific techniques and Kata.
When you watch a Karate tournament, the sparring tends to be very evasive in nature.  It can look a game of tag with each fighter trying to land a point winning strike before quickly retreating to avoid a counter-attack.  
One thing that is evident when watching karateka sparring is their very upright stance and the chin isn't tucked in as is common in boxing.  The punches in karate also travel in a straight line and not in a rounded arc which is typical in boxing.
Features of Muay Thai
Muay Thai is known as the "art of eight limbs" and incorporates striking techniques involving  fists, elbows, knees and shins.  
Related Article: Is Muay Thai good for beginners?
It's a full contact sport and in many ways is a lot like boxing, only incorporating elbows and lower limb strikes.  Matches themselves are held in a boxing ring.
The training is also similar to boxing with a lot of time spent hitting the pads and heavy bag, cardio work, and sparring.  This is all designed to develop the body to both deliver and withstand an onslaught of strikes over a sustained period.  
The kicks in Muay Thai are typically delivered with the shin rather than the foot as in karate.  Consequently, a great deal of time is spent conditioning the shin to strengthen them so that they can both deliver and block strikes.
Matches in Muay Thai can be quite brutal.  The clinch (when the fighters get so close they hang on to each other) is utilised as an opportunity to launch further offensive techniques:  the back of the opponent's head is pulled down and is then pummelled by a sequence of high knees.
Related Article: Why is Muay Thai so dangerous?
Punches and kicks are allowed to the head and matches are often won by knockout.  In contrast to karate, the punches in Muay Thai tend to follow a curved trajectory and are not performed in a straight line.
There's no grading system in Muay Thai and a fighter's competence is judged by their performance in the ring.
Which is better?
From a self-defense perspective, Muay Thai wins on this front hands down.
Full Contact vs Non-Contact
Muay Thai is a full contact fighting sport.   This is important as in a physical confrontation on the street, being hit can cause many people to freeze simply because they're shocked by the degree of violence that they're experiencing. 
Muay Thai fighters are used to sparring and therefore used to be both kicked and punched.  Not only is their body conditioned to withstand being hit but they're also psychologically prepared for a physically aggressive confrontation. 
In contrast, in a traditional karate style, such as Shotokan, there is no physical contact.  All punches and kicks are pulled short from their target.  It's practitioners never get to experience what it's like to receive a heavy blow.   If they're on the receiving end of a physical confrontation in a self defense setting then they're likely to be well out of their comfort zone.
At this point, practitioners of the Kyokushin style will point out that their style is full contact.  However, punches are not allowed to the face.  Consequently, they are not used to blocking this type of strike making them extremely vulnerable to blows to the face.  This is particularly apparent in the following video:
Experience of hitting a solid object
Shotokan karateka also lack the experience of striking a solid object.  Their body is therefore not conditioned to deliver powerful strikes.  For example, when punching, it's important that your wrist remains straight.  If it bends on impact then it can result in a strain or even break.  
Muay Thai fighters will have trained their body to ensure that their bodies are conditioned to deliver effective strikes without being damaged in the process. 
The use of the clinch
In karate tournaments, whenever the fighters get too close, the referee will quickly step in to separate them.  In Muay Thai competitions, the referees are far more hesitant in separating the fighters.  The clinch is often used as a spring board for an offensive attack: the opponent's head is pulled down and knees are are targeted towards the mid-section.  This is much more realistic in terms of a street confrontation:  there's no referee that will step in to stop the fight.
Different types of kick
Karateka also kick in a different way to Muay Thai fighters, tending to strike with the ball of the foot.  This is fine for the point scoring tournaments that they compete in as the kicks tend to be quick and precise. 

Muay Thai practitioners tend to hit with the shin.  This is a much larger area to kick with with making it more likely that any kicks will land on target.   These types of kicks are also much more powerful than those performed by karateka  Their power can be seen in the following video:
What do MMA fighters choose?
When looking to see what the most effective fighting art is it's worth looking to see what fighting styles successful MMA fighters choose.  
Lyoto Machida is probably the most famous karateka from the UFC, but the choice of  karate as a fighting system is very much the exception rather than the norm.  Most MMA fighters, such as Jose Also and  Rafael Dos Anjos make  Muay Thai their striking style of choice.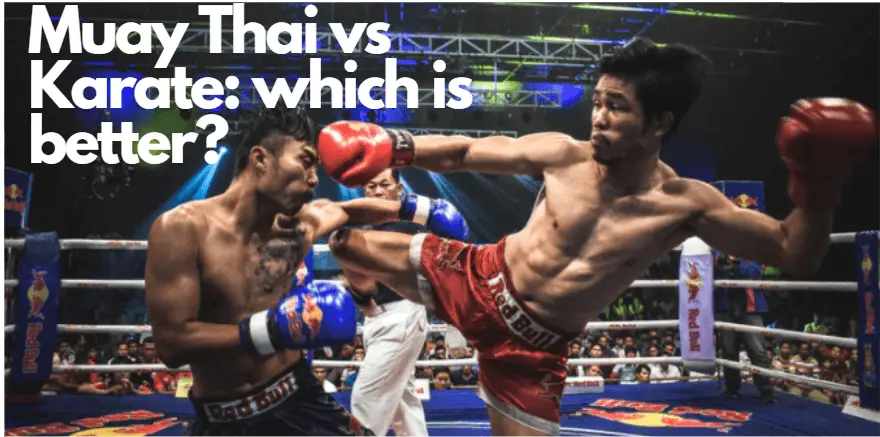 In summary….
Muay Thai vs Karate: which is better? In contrast to most styles of karate, Muay Thai is a full contact fighting system that effectively conditions the body and equips the practitioner with techniques which can be used in a self defense situation.
Related Articles:
Photo by Pablo Rebolledo on Unsplash