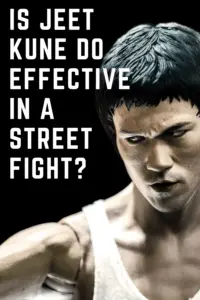 Bruce Lee is perhaps the world's most famous martial arts practitioner.  Born in 1940 in China Town in San Francisco, he was raised in Hong Kong, China, and later studied Kung Fu with Grand master Ip Man.  He also practiced boxing (winning a Hong Kong schools boxing tournament). During his teenage ears, he was frequently involved in street fights including beating up the son of an infamous triad family. Later, when he was 18, he was sent by his parents to the US to continue his higher education and whilst there began teaching martial arts.  In the 1970s, he starred in a number of films including The Big Boss and  Way Of the Dragon.
However, perhaps Bruce Lee's biggest contribution to the world of martial arts was the creation of Jeet Kune Do (JKD) – a new, revolutionary fighting concept.  The common question of all martial arts is whether they work or not in real life.  In this article, I'll look at whether Jeet Kune Do would be effective in a street fight.
What is Jeet Kune Do?
Before we can answer this question, we need to establish exactly what Jeet Kune Do is and also what it is not.  To do this, we need to explore Bruce's fighting background.
Bruce Lee's root martial art was Wing Chun kung fu, a fighting system comprising mainly of punches, kicks and associated blocks.  Like all martial arts systems at the time, there were prescribed forms (patterns of movements including blocking and striking techniques performed in sequence) as well as a regimented view on the way the techniques themselves should be performed.
Bruce Lee received something of a revelation following his fight with Wong Jack Man in 1964. 
Lee was issued with an ultimatum by the Chinese community in Oakland's Chinatown, to stop teaching martial arts to non-Chinese people.  When he refused he was challenged to a fight with Wong Jack Man – an expert in Xing Yi Quan, Northern Shaolin and Tai Chi.  Exactly who won this fight is still something of a controversy but Lee came away from it with the view that his traditional Wing Chun techniques were not up to the task.
Bruce came to believe that the traditional martial arts had become too prescribed and structured to be of real use in the chaotic setting of an actual street fight.  Many of the techniques, he viewed, had become overly ornate and  flowery, and whilst aesthetically pleasing, of no real practical value.
Every martial art has its own set of techniques and method of performing them, this is what makes them unique and set them apart from other styles.  This makes teaching the martial art easier, as there is a fixed repertoire to train others on, and this enables the martial art to be passed on down the generations.  Whilst in a sense this is a good thing in that it allows the style to live on, it's prescribed nature does perhaps move it further from its original purpose, which was to be an effective form of combat. 
Following his fight with Wong Jack Man, Bruce began to heavily study other martial arts outside of Wing Chun.  In 1965, he announced his new fighting concept of Jeet Kune Do.
Rather than create a new style of fighting, with all the weaknesses that the existing rigid martial arts had, he outlined how an individual should develop their own their style of fighting.  Bruce adopted the quick, simple attacks and defenses  from other martial arts:  slipping and rolling movements from Western boxing to dodge punches,  kicks were aimed at targets below the waist as in Wing Chun, even the interception concept from fencing was incorporated – attacking your opponent when they were about to attack.
Different techniques may be suit some fighters but not others and it was only in all out sparring sessions that a fighter could determine whether a technique should be incorporated into their repertoire or discarded.  
In this respect, Jeet Kune Do is different from other martial arts that have a 'sports' or 'point scoring' element to them.  Bruce felt that such competitions were unrealistic and were more like a game of tag than anything that would occur in a street fight. 
Jeet Kune Do is not a static system of attacks and blocks but an ever evolving experiment as different techniques at close, medium and long range are tried out.
Principles of Jeet Kune Do
Jeet Kune Do does have some underlying principles to it:
Parrying an attack and punching at the same time 
In more traditional martial arts, such as Karate, an oncoming punch is forcibly blocked and once the attack has been neutalised, a counter punch is deliver.  In contrast, in JKD, an attack is parried or redirected rather than blocked and a counter punch is delivered at the same time.  This makes the counter much quicker and gives the opponent less time to react as they are still withdrawing from their original attack when the counter comes.
Training in close, medium and long ranges
According to Bruce, most martial arts focussed on just one or two ranges whereas, in order to be a complete rounded fighter, mastery of all the ranges was required.  In JKD, equal attention is given to practising techniques both at distance and at much closer quarters.
Non-telegraphed movement
Bruce believed that during a fight, the body and arms should remain loose and fluid and should only be tensed when an attack makes contact with the opponent.  This avoids any slight movements which could give away a fighter's intention of a pending attack.
These underlying principles can be seen in his fight scene with Chuck Norris in 'Way of the Dragon'.  Bruce often used his films to show case his unique fighting style.  Here you can see Bruce transition from a stiff rigid form, typical of traditional martial arts, to move to one that is fluid and dynamic and more in line with the principles of JKD.
Jeet Kune Do was not a system of distinct moves or techniques that separated it from other styles.  In the words of Bruce Lee:
"I have not invented a "new style," composite, modified or otherwise that is set within distinct form as apart from "this" method or "that" method. On the contrary, I hope to free my followers from clinging to styles, patterns, or molds."
The ideas behind JKD was to examine a host of different martial arts and "[a]bsorb what is useful, reject what is useless, add what is essentially your own".  Some techniques might be suitable for some individuals due to their height or build but not for others.  The idea was that you found the techniques that worked for you and you tested them in all out sparring sessions which were as close to a violent street confrontation as possible.
Criticism of JKD
One of the critiicisms of JKD is that it's not actually a system, but rather more of a philosophy of how to study the fighting arts as a whole and extract the elements that are applicable to you as an individual.  However, there are still JKD schools that essentially teach a syllabus.  The danger here is that the syllabus is heavily influenced by the instructor's own preferences and requirements. If the teacher is 6'4" and weighs 220lbs, the strikes and defensive moves that are suitable for them and that they teach will be very different to say the needs of a light framed female.  The danger is that JKD taught in this way just becomes like any other martial art.  The underlying principle of JKD of selecting techniques to suit you as a fighter is lost.

A further criticism is that it doesn't really stake up against a decent MMA school.  The average physical conditioning of an MMA fighter is significantly higher than a JKD student.  In the typical JKD lesson, there is limited emphasis put on strength and endurance whereas in a MMA school, physical stamina and power is a fundamental part of the training regime. The sparring that takes place in most JKD schools is also quite tame.  This is contrast to most MMA schools where there is a competitive edge to it which pushes it to mirror a more realistic street fight scenario.  Most people who attend a JKD school want to learn a self defense system rather than to fight, but it's only by fighting, in a safe, controlled manner, that you get better at defending yourself.

JKD, as taught in most schools, has a limited grappling repertoire.  Bruce Lee had only begun studying wrestling in detail shortly before he died.

Some individuals will say that in a self defense scenario, you don't want to end up on the floor.  Whilst this is true, if you're a female it could save your life if you know how to escape from an attacker who is pinning you to the ground.  A sound understanding of grappling techniques would be a valuable addition to a fighter's repertoire.
Is Jeet Kune Do effective in a street fight?
In answering this question it's important to remember that Jeet Kune Do is not a system of unique special moves and techniques that set it apart from other martial arts.  Rather it is philosophy or method of practising martial arts: the principle idea being that you practise a range of techniques from different styles and incorporate those that work for you into your fighting repertoire by testing them in full on sparring sessions. The concept behind JKD is really the forerunner to Mixed Martial Arts. 
If an individual trained consistently in this way, they would develop a highly effective self defense system that they had tailored specifically for themselves.  The reality is, however, that most JKD schools have fallen into the trap of teaching a set syllabus largely based on the teacher's preferences.  
FAQ
What is Jeet Kune Do a mix of?
JKD is not a syllabus of moves and techniques.  It is a philosophy of how to train to be an effective fighter.  It involves studying and testing strikes, blocks and movement patterns from a range of martial arts and selecting those that suit your own physical makeup and abilities.  The moves are tested in full-on sparring sessions where their effectiveness can be assessed.
Is Keet Kune Do useless?
JKD has a number of weaknesses:   the syllabus, as taught by many instructors, can be heavily influenced by the instructors own technique preferences; there is insufficient emphasis on physical conditioning when compared to say MMA schools, and there is also a limited grappling repertoire.
JKD as Bruce Lee intended it to be, is a philosophy or method of studying the martial arts in order to become a better fighter: "Absorb what is useful, reject what is useless, add what is essentially your own".
Mixed Martial Arts weren't around in Bruce Lee's day.  If you're looking to be an all round fighter, then you might be better off joining a MMA gym.
Related Articles:
Photo by Fervent Jan on Unsplash