When you first start training in BJJ, no doubt you'll be wearing an old jogging top and some gym shorts.  However, pretty soon you'll realise that your everyday gym attire is no match for the rigors of this type of hand-to-hand combat training.  If you don't invest in a decent gi, you'll find that your clothes are ripped to shreds in no time at all.  When I first started training, and after much research, I invested in a Valor Bravura.  I thought it would be useful to share my experiences on what I think is the best BJJ Gi for beginners.  Here's my own Valor Bravura Gi Review.
The Valor Fightwear brand originally started in the UK in 2010.  It specializes in making high quality Gis at an affordable price.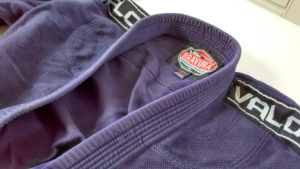 The Collar
One of the first thing you'll notice is the stiffness of the collar.   The marketing blurb for the Gi said that it was rubberized to prevent sweat and bacteria absorption.  Whilst I have no doubt that this is true, I also found that it was also much harder for my opponents to grab hold of it and obtain a tight grip.  Consequently, it's that much harder to be choked out.   This means I found myself lasting slightly longer when fighting higher belts as their technique had to be spot on in order to be effective.
I should also add that whilst the collar is stiff, it's not something you actually notice when you're wearing it.
Stitching Quality
The other aspect that really stands out on this Gi is the quality of the stitching.  There are no loose threads and you can see that all the areas that are subject to stress have been really well reinforced.


The jacket is constructed from 400g cotton and features a highly durable gold weave.  You can really feel the quality of the material when grappling and I was never worried about the material ripping mid-roll.
The Fit
The Gi comes in a number of sizes:
A1 Height: 5′ 2 – 5′ 8 & Weight: 121 – 155 Lbs

A2 Height: 5′ 9 – 5′ 11 & Weight: 156 – 190 Lbs

A3 Height: 6′ 0 – 6′ 2 & Weight: 191 – 225 Lbs

A4 Height: 6′ 2 – 6′ 3 & Weight: 226 – 265 Lbs
I have quite long arms for my size and was worried that the length of the sleeves would be too short.  At 5'11, I should have gone for the A2 size but I actually went for the A3 option.  The Gi I ended up with was slightly too large when first purchased.  However, after a couple of washes and careful tumble drying, it shrank to the perfect fit.
The jacket now fits like a tailored suit and allows complete freedom of movement.  There are no loose pockets of fabric for the opponent to grab hold of.
The Pants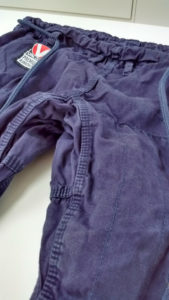 The pants are made from 10 Oz canvas cotton and, again, the quality of the reinforced stitching is obvious.
They're very light weight and allow for complete freedom of movement.
One of the features I really liked was the thick cord belt.  This could be pulled tight and tied securely so there was never a worry that my pants would be pulled down mid-fight.
 The Price
I'll be honest, for me, one of the main factors that triggered the purchase of this Gi was the price.  You can end up spending a fortune on a quality Gi.  As a newbie, I didn't know how much I was going to enjoy this sport.  I didn't want to end up spending vast sums, only to give up shortly after.
The Valor Bravura is the perfect entry level Gi.  It also conforms to the IBJJF regulations should you want to take your training to the next level and compete (something I have yet to do).
I paid around $90 but you can check the price on Amazon here.
A video overview of the Valor Bravura Gi
Summary
This is the perfect beginner BJJ Gi and comes at a very affordable price.  It's really comfortable and very durable.
Happy Training !!