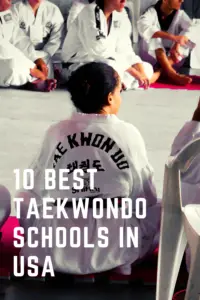 Martial arts has seen a tremendous boom over the last ten years and it's no surprise why.
The physical component, combined with the mental disciplines and spiritual awareness, has made martial arts a way of life for many.
If you're looking to join in on the action and improve your physical, mental, and spiritual health, then you might want to consider joining a taekwondo school.
Martial arts has seen a tremendous boom over the last ten years and it's no surprise why.
The physical component, combined with the mental disciplines and spiritual awareness, has made martial arts a way of life for many.
If you're looking to join in on the action and improve your physical, mental, and spiritual health, then you might want to consider joining a taekwondo school.
Taekwondo is a great discipline to learn as it covers every base you could want of martial arts. It requires a tremendous sense of balance, a strong core, fast striking, and flexibility.
It can, however, seem daunting to take your first steps onto the mat. There are so many skills to master and becoming proficient in martial arts takes a lot of training, dedication, and perseverance.
Learning taekwondo also comes at a financial cost, too. To best help you save money, time, and effort, we've compiled what, in our opinion, are the 10 best taekwondo schools in America into a handy list.
Let's dive right in!
Hee IL Cho's Tae Kwon Do Center
Learn from the United States' most respected taekwando masters. Hee Il Cho is a 9-Dan taekwando belt, and has made 11 books on martial arts and 70 training videos. He's been on the cover all major martial arts magazines, and is even part of Black Belt Magazine and Tae Kwan Do Time Magazine's halls of fame.
His school uses his signature training methods, and more importantly, the values of a true martial arts master: integrity, confidence, and discipline. It offers three kinds of classes: Panther (age 3 to 6), Children (7 to 15), and Adult (16 and above).
Kids will also get a kick out of knowing that their teacher appeared in movies like Fight to Win and the Bloodsport trilogy!
 American Dragon Martial Arts Academies
This taekwando school is so respected that the Korean Martial Arts Instructors Association in Seoul, Korea included it in their list of the world's 10 best Martial Arts Academies.  
American Dragon was established by Richard Hackworth, who is said to be the first Multi-Arts Grand Master with black belts in different martial arts: taekwando, YuSool, and hapkido. He also founded the US National Taekwondo Association.
Richard Hackworth first shared his expertise in TV shows, but established the school to provide a more systematic way of training the next generation of martial arts champions. Aside from children and adult classes, it also has a Summer Day Camp where kids go on fieldtrips and are exposed to Asian culture and music.
World Taekwando Academy
This was established in 1969, by taekwando legend and 9-dan blackbelt Grand Master Byung Yul Lee. He was one of the Unite States' first master instructors, and many of his students went on to become champions themselves.
It has one of the most comprehensive taekwando curriculums. Aside from the usual Child, Teen and Adult classes, they also offer special programs for people with special needs, families who wish to learn together, and athletes training for competitions.
Master Chong's World Class Taekwondo
It was established in 1993 by 8-Dan Grand Master Sun Ki Chong. Grand Master Chong, who won several championships in Korea before becoming the head coach of the United States National Taekwondo team. Today, he runs it with his student and 6-Dan blackbelter Michael Mertens.
The school offers has a class for pre-schoolers (called Little Tigers), kids, adults, and families.  Reviews say that the teachers are very accommodating, and stay to answer questions both before and after class.
Universal School of Martial Arts
This is another taekwando academy established by a member of the United States National Taekwondo team of coaches, 7-Dan Grand Master Gregory Clover.
It offers a Kids Class and an Adult Class. The adults martial arts program has a strong fitness and weight loss element, and children are taught values like discipline and respect for others. New members can have a free trial, so they can experience the atmosphere and the training before committing to a membership.
KyungHee Taekwondo School
This California taekwando school was established by 7-Dan Grand Master Young Kil Kim, who studied taekwando from Korea's prestigious Kyung Hee University.
He has nearly 50 years as a taekwando instructor, and is one of the certified international instructors of the World Taekwondo Federation. Before opening his own school in San Diego, he served as the head coach of the Korean-American Taekwondo Team.
Aside from the regular Kids and Adult taekwando classes, it holds annual Spring, Summer and Winter camps for students to have a more immersive experience of the physical, mental and spiritual elements of taekwando.
Chung's Taekwando
Website: http://www.chungstaekwondostudios.com/
For those interested in learning taekwando for self-defense, this school should be on your short-list.
It was set up by the renowned Grand Master Dae Wong Chung, a recognized expert in using taekwando for self defense. He trained the Vancouver Police Department, and was on the cover of Black Belt Magazine and Karate Illustrated. He established Chung's Taekwando in 1965.
Unlike other taekwando programs, Chung focuses on the "Chang Moo Kwan" style, which was developed shortly after the end of Japanese occupation of Korea. This traditional military style used by soldiers for unarmed combat will teach you specific moves to fight off an unexpected or aggressive opponent.
JH Kim Taekwondo Institute
This is one of the most-respected taekwando schools in the United States, and was even included in the 2019 Top Ranked Do-Jangs by the Kukkiwon World Taekwondo Headquarters.
The academy was established by Grand Master Kim Jae Hun, and uses his unique teaching approach, derived from training under Eastern taekwando masters and Western universities. He uses a very analytical, skills-based system that helps students learn the movements in a more effective way.
Now, the program is known for its Forms/Patterns training and Full Range Sparring. Its methodical and rigorous classes proved so successful that Grand Master Kim Jae opened more schools in Singapore, China, Malaysia, Indonesia, Philippines, and South Korea.
Kang's Taekwondo Academy
This California taekwando school has many positive reviews, both for the quality of the classes and the culture or environment.
Students are taught that martial arts are not just for sports, fitness or self-defense: it is about mental preparation, self-discipline, respect for others, and self-awareness.
It was established by Grand Master Johnny Kang. Current programs include Kids and Adult Classes. IT also has Spring/Summer/Winter camps, and birthday packages.
TangSooDo
Established by Grand Master Fred Parks, this school offers different kinds of martial arts training: taekwando, tang soo do, and karate. This is a good school for students who want to learn a combination of moves, rather than a "pure" approach focused on just taekwando.
Which Taekwondo School is Best For Me?
All of these taekwondo schools have their qualities to offer. Some are more serious than others, and some have more technical credibility behind them.
If you're just looking to use martial arts as a vehicle to get in shape and learn some basic self-defense, then some of more 'general' martial arts gyms are perhaps best for you.
If, however, you're serious about the art of taekwondo and wish to get immersed in its history and uses, then perhaps it makes more sense to choose one of the more 'specialist' taekwondo schools. There is no wrong answer, it's completely up to you! 
Now that you know what some of the best taekwondo schools in the country are, why not go out and see if you can become the next Grand Master?
Related Articles:
References
https://en.wikipedia.org/wiki/Taekwondo
https://www.teamusa.org/usa-taekwondo/v2-getting-started-in-taekwondo/what-is-taekwondo
Photo by Camila Sanabria on Unsplash